Miao Woman Strives for Better Life, Leads Villagers out of Poverty
Yang Shuting, a young, wheelchair-bound ethnic Miao woman, is president of Chengbu Wanhong Artificial Flower Cooperative.
She is also general manager of Hunan Qiqi Technology Company.
In recent years, she has helped more than 1,300 families increase their incomes, and she has helped more than 380 households escape poverty. Her story has inspired countless people, especially those who have disabilities.
Yang, who was born in 1991, lives in Gewu Village, Chengbu Miao Autonomous County, in Central China's Hunan Province.
Yang used to be a nurse until 2011, when her life was dramatically changed after an accident left her paralyzed from the chest down. Her family accumulated a huge debt to pay for her treatments and rehabilitation.
Thanks to the warm care provided by her family, Yang gradually regained her confidence. She was determined to strive for a better life, even though she was confined to a wheelchair.
A friend urged Yang to use the Internet to find a job. The diverse cyberspace opened a new window for Yang. She found a job, as a customer-service rep, with an online store on Taobao.com, one of China's leading e-commerce websites. Yang and her friend also ran a clothing store on the website for several months.
In 2013, Yang established an online shop, from which she sold crafts made with artificial flowers. Her online business thrived, thanks to her hard work. She made enough money — in two years — to pay off her family's debt. She also hired people with disabilities to help her run the shop.
Yang Shuting(R) teaches an employee to produce the artificial flowers in her factory.
As the cost of purchasing artificial flowers grew, and as there was enough potential workers in the village, Yang decided to build her own factory, in the village, and employ villagers to produce the artificial flowers. She considered it a way of helping villagers improve their lives.
Yang's friends and family members supported her. Yang's cousin, then a technical director of an arts and crafts enterprise in North China's Hebei Province, quit his job and returned to the village to help Yang establish the factory.
In July 2014, they invested more than 400,000 yuan (US $57,142), combined, to build the factory. Li was responsible for training the employees. Yang's brother and uncle also returned from other cities to help her run the business.
In May 2015, Yang established Chengbu Wanhong Artificial Flower Cooperative, and the cooperative signed agreements with more than 200 poverty-stricken families.
The factory produced semi-finished artificial flower products, and provided the products to members of the cooperative. The members completed the production of the items.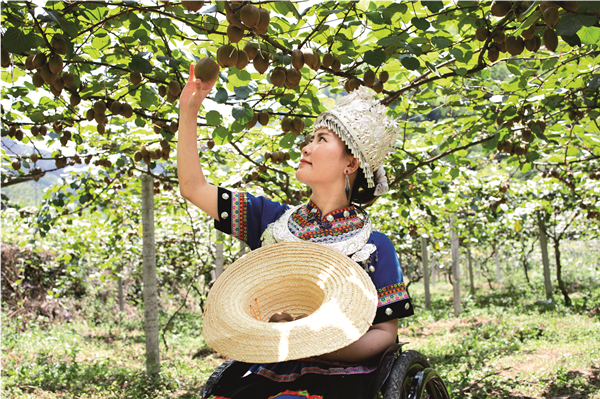 Yang Shuting in the Miao costume
Yang has established 22 artificial flower assembly stations and two poverty-alleviation workshops in neighboring villages and townships, and each outlet provides work to impoverished and/or disabled individuals. The workers generally earn 2,000-4,000 yuan (US $285 to 570) per month.
In 2016, Yang established Hunan Qiqi Technology Company, to produce and sell various products, including bags and footballs. "Only by expanding our business can we achieve greater development, and help more people escape poverty," she says.
"I am very grateful to Yang for offering jobs to disabled people, like me. My monthly salary is more than 2,000 yuan (US $285). I feel happy working at her company, which is as warm as home to me," Xiao Minghui, an employee at Yang's company, says.
Yang's cooperative and company currently employ 98 people, many of whom are disabled.
The combined turnover of the cooperative and company was 31.31 million yuan (US $4.47 million) last year, and the company's export volume in the past six years topped US $8 million. The products have been exported to Europe, America and the Middle East.
Last year, Yang won the 2019 National Poverty-alleviation Award for her efforts to help lift people out of poverty.
Photos Supplied by Yang Shuting
(Source: Women of China English Monthly May 2020 issue)
---
Source : China Today | Photocredit : China Today
---
Related News
---
China Today Wiki
Popular News by Topics